For the Marine Industry we recommend excellent uk designed range of Marine radios produced by Entel.
The Entel Marine range has been designed to withstand harsh conditions, and includes GMDSS hand-portable equipment.
Entel Marine radio equipment has been selected by a number of worldwide marine users, including the French Navy
Entel Marine radio equipment is available as both standard use, and intrinsically safe versions.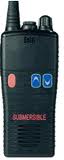 For those requiring an entry level (does the job) marine  portable, with a no compromise MIL-STD810 C/D/E/F build specification (its tough),  the HT642 / HT782 is the most cost effective solution. Utilising the latest  intelligent Lithium-Ion battery technology with battery cycle count* (talk for longer) the HT642 (the black radio, not the yellow one) / HT782 will  even alert you to imminent battery life expiration (going flat in other words).  Part of the commercial grade HT Series  2.0 of marine portables and designed to endure the every day rigours of  life at sea, with its exceptionally loud audio and IP68 submersibility (not averse to a bit of water), this  portable is the choice of the fire & rescue services and major  blue-chip petrochem organisations (big'n rich businesses) as well as shipping companies worldwide.
*Battery cycle  count can only be displayed on LCD model.
We can also supply the GMDSS version, shown in the larger picture above. The yellow coloured one.
We are also able to supply the industry renowned Icom range of Marine radios.
Offshore Trunked Radio Systems
Offshore installations, such as oil platforms, can benefit from Trunked radio systems, such as TETRA.
TETRA is a digital trunked radio system, which is used by both private sector and emergency services.
TETRA offers greater voice communications, compared with the older MPT1327 analog trunked system, which is still popular.
TETRA can be thought of, as computer controlled radio.
Rather than allocating a dedicated channel or frequency, it allocates one between users, when required.
This is more efficient, and allows more people to speak simultaneously.
Contact us with your requirements.
(01522) 740818
(01482) 520818
Save
Save
Save
Save
Save
Save
Save
Save
Save
Save
Save
Save